Israel-Gaza: Deadly fire traded across border
Seven people have been killed in a flare-up of violence between Israel and Palestinian militants in Gaza.
More than 400 rockets have been fired into Israel by militants since Monday night, while Israeli aircraft have hit 150 militant targets in response.
Six Palestinians, four of them militants, died in the strikes on Gaza, while a Palestinian civilian was killed in a rocket attack in southern Israel.
The United Nations has called on all sides to show restraint.
The escalation began when an undercover Israeli special forces operation inside Gaza was exposed on Sunday. A Hamas commander was among seven militants killed in clashes, and an Israeli lieutenant colonel in the undercover unit also died.
The incident came after apparent progress in an effort by Egypt and the UN to secure a truce on the Gaza border, where more than 200 Palestinians have been killed in protests since March.
The Israeli military has been accused of using excessive force against protesters, but has said its soldiers have only opened fire in self-defence or on potential attackers trying to infiltrate its territory.
How serious is the latest violence?
After a brief lull following Sunday night's violence, a barrage of rockets and mortars was launched towards Israel late on Monday, which Israeli medics said killed one person and injured 28.
A bus, which had reportedly been carrying troops, was hit by an anti-tank missile in the Shaar Hanegev region, seriously wounding a male soldier.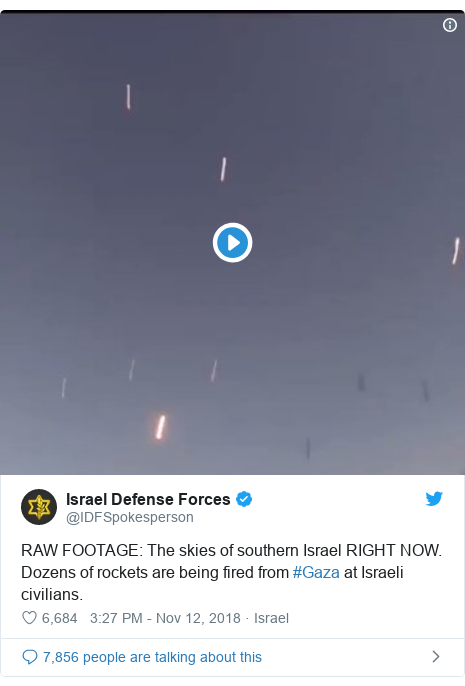 Overnight, a man was killed when a block of flats in Ashkelon was hit by a rocket. He was later identified as a Palestinian from the occupied West Bank who had been working in Israel.
Eight other people were injured in the attack, including two women who the Israeli ambulance service said were in a serious condition.
In response, the Israel Defense Forces (IDF) carried out what it called a wide-scale attack against military targets belonging to the Hamas and Islamic Jihad groups.
It said they included Hamas' military intelligence headquarters in northern Gaza and "a unique vessel" in a harbour in the south of the territory.
The building housing Hamas's Al-Aqsa TV was also bombed after being evacuated. The IDF said the outlet "contributes to Hamas's military actions".
The Hamas-run Gaza health ministry said six people were killed and 25 others injured in the strikes. Four of the dead were militants and two are said to have been farmers in northern Gaza.